Welcome to Baker's Library Page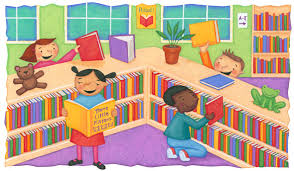 Our library catalog is now available on the web.
Go to
https://library.moreland.org/.
Click on "Gussie Baker" to view the Baker Library catalog.

Don't forget you can do research at
World Book Online.
Enter Username:
moreland
and Password:
moreland
.
Dear Baker Families:
Students make weekly or bi-weekly visits to the Baker library with their classes. Depending on their grade level, students may check out one or two books, and may keep them for one or two weeks. If your child needs more time to finish a book they may renew it at least once. Students must bring books to the library to renew.
| | | |
| --- | --- | --- |
| Grade | # of Books | Book(s) Due in: |
| K – 1st | 1 Book | 1 Week |
| 2nd – 3rd | 2 Books | 1 Week |
| 4th – 5th | 2 Books | 2 Weeks |
In order to make your student's library experience successful and to encourage your child to become a lifelong reader please encourage your child to share their books with you. Make a time and place for daily reading. Help your child find a safe place to keep their library books and remind them what day is their class library day.
If a book is damaged, encourage your child to handle the problem responsibly by bringing it to the librarian's attention. Please do not attempt to repair a damaged book at home. If a book is lost or damaged beyond repair district policy defines replacement value as $10 for paperback books and $20 for hardback fiction and $25 for hardback nonfiction books. Until books are returned or paid for, students cannot check out another book.
In addition to weekly visits with their classes, 1st – 5th-grade students can visit the library during snack recess, M – F and F lunch M,T, W.
Happy Reading,
Wanda Levy, Baker Library Specialist
wlevy@moreland.org
or 408-874-3215
California Young Readers Medal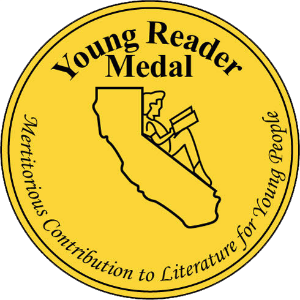 Primary Category
The Bear and the Piano by David Litchfield
I Don't Want to be a Frog by Dev Petty
If You Ever Want to Bring an Alligator to School, DON'T by Elise Parsley
Mother Bruce by Ryan T. Higgins
Samson in the Snow by Philip C. Stead

Intermediate Category
Fish in a Tree by Lynda Mullaly Hunt
The War that Saved My Life by Kimberly Brubaker Bradley
Crenshaw by Katherine Applegate

Middle School Category
Ms. Bixby's Last Day by John David ANderson
Echo by Pam Munoz Ryan
Wolf Hollow by Lauren Wolk


Picture Books for Older Readers
We're All Wonders by R.J. Palacio
Separate is Never Equal by Duncan Tonatiuh
Emmanuel's Dream: The True Story of Emmanuel Ofosu Yeboah by Laurie Ann Thompson
Lost or Damaged Library Book… What Do I Do?

First of all, don't panic, most lost library books turn up. Moreland School District does not charge overdue fines. Please help your child carefully check their backpacks and your home and cars. If it doesn't turn up, please help your child check their desk, cubby, and classroom library. Tell them to talk to Mrs. Levy and she will check the library shelves and see if it got put back on the shelf without being checked in by the computer.

If the library book is indeed lost, then you can replace the book with another copy of the book (It must be the same binding as the lost book.) or you can pay a replacement fee; $20 for a hardback fiction book, $25 for a hardback nonfiction book or $10 for a paperback book. If you find the book within 30 days, then your money will be refunded. If it is longer than 30 days, then you may keep the book or donate it to the library. Unfortunately, your child cannot check out a book until the lost book is replaced or the replacement fee paid.

If your child's damaged book can be repaired and continue to circulate to other students, then an apology and conversation about good book care is all that is necessary. If your child has damaged a book beyond repair, then the same 2 options are available to you, replace the book with another copy of the book with the same binding or pay the replacement fee. If you have questions, please contact Mrs. Levy at wlevy@moreland.org 408-874-3215.